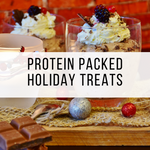 The holiday's are here and let's face it...you haven't been the best on your diet, but you want to continue eating as healthy as you can! No problem! I've made some healthy treats that will not cause you to break the calorie bank, and still enjoy the holidays!
Servings: 15                                                     
Ingredients:                                                                  
1 cup pumpkin puree
 1/4 cup cocoa powder
 1/2 cup almond butter or any nut butter
35 grams baking protein powder (I use 1st phorm protein, any flavor will work!)
 2 sachets stevia or natural sweetener
Directions:
Preheat oven to 350 degrees and line a muffin tin with liners - about 15. These will be very small.
In a blender or mixing bowl, combine all ingredients and blend.
Pour mixture into each muffin tin.
Bake for 12-15 minutes. 
Refrigerate for a couple of hours to cool and harden. :)
Check out our Cinnamon Toast Crunch Protein Donuts, too!
Servings: 6
Calories per serving: 180     
Ingredients: 
3 cups cinnamon toast crunch cereal - crushed finely 
2 tbsp. coconut flour
6 tbsp. liquid egg whites
1/4 cup fat free plain Greek yogurt 
1/2 cup unsweetened apple sauce 
Donut Glaze:
Directions:
Preheat oven to 325 degrees and spray donut pan
Crush cinnamon toast crunch in a zip lock bag until it is like a flour-like consistency. You may use a food processor or nutribullet to blend as well.
Add remaining dry donut ingredients into a mixing bowl.
Then, add Greek yogurt, egg whites, and apple sauce. If this is too thick to spread around, then go ahead and add more apple sauce.
Add mixture to donut pan - spray pan before use.
Bake for 24-27 minutes.
THEN, add all glaze ingredients together and blend them or mix by hand. Blending will create a better consistency. Spread mixture on top of each donut as you wish.